Posted by Matt on 10/31/2014 - 15:48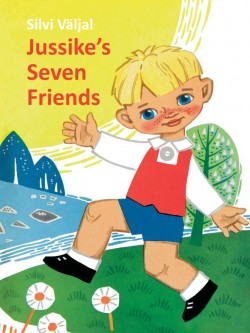 Avita Publishing in Estonia has just rolled out my translation of a 1966 classic children's book called Jussike's Seven Friends (Jussikese seitse sõpra in the original Estonian). I'm excited about this not only because I worked on it, but because it's a lovely, beautifully illustrated story that manages to be simultaneously universal and deeply Estonian. It also serves as a cultural touchstone for Estonians of my generation, which makes the book, and its main character in particular, nostalgic icons to be passed to the next generation. This explains why we had a copy at hand when the publishing house contacted me about the possibility of a translation, and it also explains why, as we were reading through the bilingual ad copy accompanying the book in Avita's online store, our four-year-old daughter looked at the picture on the screen and shouted, "Look! It's Jussike!"
That type of identification with the character led early on to the difficult question of what to do with the main character's name. As familiar as Jussike may be to an Estonian, it looks intimidating to an English speaker. The correct pronunciation of Jussike is "YOU-see-keh," primary emphasis on the first syllable, a bit of a linger on the doubled S, and no stress on the last two syllables. The -ke ending on the name is a diminutive suffix, and it has been tacked onto Juss, a standard nickname for Johannes. Strictly speaking, one could translate Jussike as "Johnny," and we considered doing so to make the title more attractive to English-language book buyers. It didn't feel right to me, so I asked my wife what she thought, and she made a face. "Absolutely not! He's Jussike."
The more I thought about it the more I agreed. If somebody came up to you and told you they connected to American culture via a set of films featuring an animated rodent named Mikhail the Mouse, you'd probably recognize Disney's character, but it would take a couple too many synaptic jumps to get there. You would also probably laugh. On the other hand, Santa Claus appears in Estonian tradition as Jõuluvana, certainly the same character—an old man handing out toys in midwinter—though translated both culturally and literally.
Jussike is an Estonian boy who learns the value and pleasure of work and friendship on his journey through the lands of the personified days of the week. The moral of the story and the sweetness of the characters themselves have universal appeal. Jussike's cultural identity, however, is thoroughly Estonian. The weekdays' personifications wear recognizable traditional Estonian folk costumes. A boy named Little Johnny isn't all that likely to skip off to the sauna at the end of a long Saturday to freshen up for Sunday morning, either.
A lot of the pride and joy I feel in helping to get this book out into the world comes from the privilege of introducing the story and Jussike himself to a much wider audience. For me, the challenge in literary translation work lies in making a work accessible without losing its cultural voice. I wanted to change the language without changing the essential experience of the story any more than necessary. Altering the main character's name changed the character in some way. We don't identify with a name, regardless of how accessible it may be—we identify with a character. I hope that anybody who reads to small children will enjoy meeting and reading about Jussike in English as much as those of us privileged enough to meet him in the original Estonian have.